Below is the online edition of In the Beginning: Compelling Evidence for Creation and the Flood, by Dr. Walt Brown. Copyright © Center for Scientific Creation. All rights reserved.

Click here to order the hardbound 8th edition (2008) and other materials.
What's Ahead
Twenty-five major interrelated mysteries have been briefly described and solved. Each of the next eight chapters will examine one of these mysteries in detail: ocean trenches, earthquakes and the Ring of Fire, strata and layered fossils, the Grand Canyon, limestone, frozen mammoths, comets, asteroids and meteoroids, and finally, earth's radioactivity. Each chapter will contrast the hydroplate theory with all leading explanations and will add a surprising new dimension to the hydroplate theory and to the flood's destructiveness. As you read these chapters, keep in mind that all the theory's details and events were consequences of only three assumptions (explained on page 122) and the laws of physics.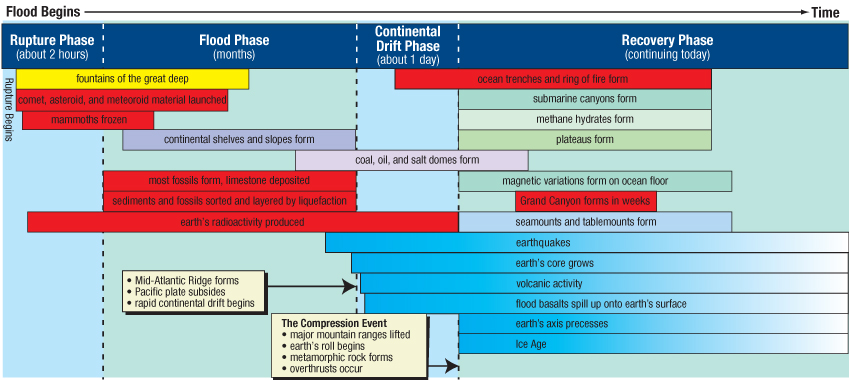 Figure 74: Sequence of Events. Although the flood's consequences, displayed above, are correctly sequenced, each phase has a different time scale.  Each consequence shown in red is the subject of a later chapter. (Notice that the mammoths were frozen during the rupture phase, but the ice age began during the recovery phase and is diminishing today. See "Is Global Warming Occurring? If So, What Causes It?" on pages 509–513.)