Below is the online edition of In the Beginning: Compelling Evidence for Creation and the Flood, by Dr. Walt Brown. Copyright © Center for Scientific Creation. All rights reserved.

Click here to order the hardbound 8th edition (2008) and other materials.
66.   Humanlike Footprints
Humanlike footprints, supposedly 150–600-million years old, have been found in rock formations in Utah,a Kentucky,b Missouri,c and possibly Pennsylvania.d At Laetoli, in the east African country of Tanzania, a team headed by Mary Leakey found a sequence of humanlike footprints.e They were dated at 3.7-million years. If human feet made any of these prints, then evolutionary chronology is drastically wrong.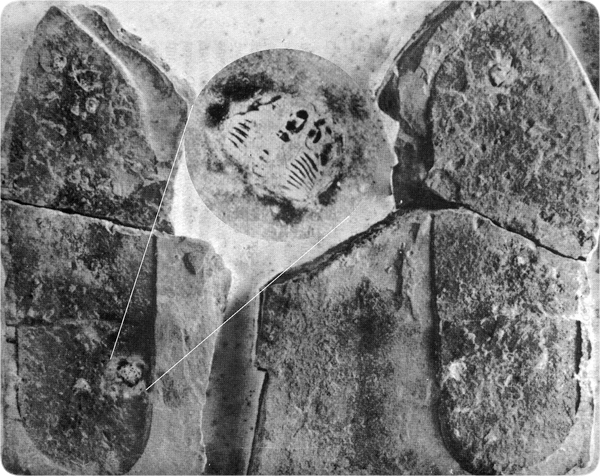 Figure 31: Humanlike Footprints with Trilobite. In 1968, 43 miles northwest of Delta, Utah, William J. Meister found this and other apparent human shoe prints inside a 2-inch-thick slab of rock. Also in that slab were obvious trilobite fossils, one of which was squashed under the "heel." The 10-inch-long shoe print is at the left, and its rock mold is to its right. According to evolutionists, trilobites became extinct 240-million years before humans evolved. Notice how the back of the heel is worn, just as most of our shoes wear today. The heel was indented in the rock about an eighth of an inch deeper than the sole. Others have since made similar discoveries at this location, although this is the only fossil where a trilobite was inside an apparent shoe print.